Automatic Hard Capsule Filling Machine(NJP-420,700,800B/C/E)
INQUIRY
Description Customer Case Featured Products

Full-Auto Electric Capsule Filling Machine
Product Overview:
This model is an intermittent motion and hole plate type filling full automatic capsule filling equipment.
1.It adopts optimization design for meeting the characteristics of Chinese medicine and the requirement of GMP.
2.It has the characteristics of compact mechanism, small volume, lower noise, precision filling dosage, multi-function, stable running etc.
3.It can finish the following motion at the same time; capsule feeding, capsule separating, powder filling, capsule rejecting, capsule locking, finished capsule discharge and die hole cleaning etc.
4.It is the most ideal hard capsule filling equipment for pharmaceutical and health food industry.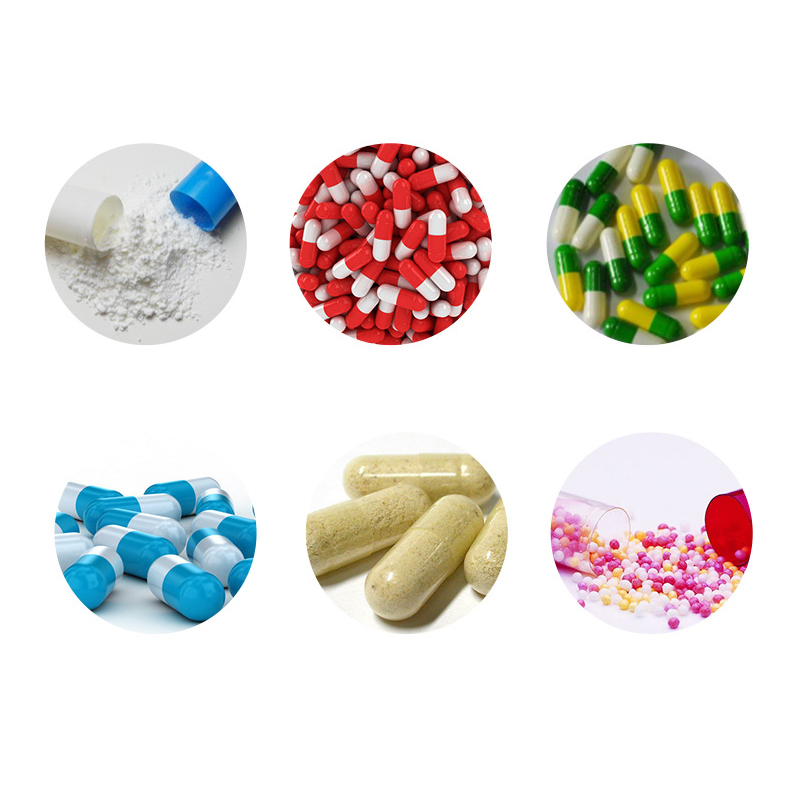 Technical Parameters:
| | |
| --- | --- |
| Model | NJP-420B/C/E |
| Filling Dosage Form | Powder,Pellets,Tablet |
| Capsule Size | Capsule size 00''-5'' and safety capsule A-E |
| Max. Output | 25200 Capsules / Hour |
| Power Supply | 380V ; 50Hz 1.87Kw |
| Noise | ≤75 d BA |
| Vacuum Degree | -0.02~-0.06MPa |
| Compressed Air (clean segment) | Air Consumption : 3m³/h |
| Pressure | 0.3-0.4 M Pa |
| Number of die holes | 3 Holes |
| Dimensions | 810 ×945 × 1930 mm |
| Weight | 800 kg |
| | |
| --- | --- |
| Model | NJP-700B/C/E |
| Filling Dosage Form | Powder,Pellets,Tablet |
| Capsule Size | Capsule size 00''-5'' and safety capsule A-E |
| Max. Output | 42000 Capsules / Hour |
| Power Supply | 380V ; 50Hz 1.87Kw |
| Noise | ≤75 d BA |
| Vacuum Degree | -0.02~-0.06MPa |
| Compressed Air (clean segment) | Air Consumption : 3m³/h |
| Pressure | 0.3-0.4 M Pa |
| Number of die holes | 5 Holes |
| Dimensions | 810 ×945 × 1930 mm |
| Weight | 800kg |
| | |
| --- | --- |
| Model | NJP-820B/C/E |
| Filling Dosage Form | Powder,Pellets,Tablet |
| Capsule Size | Capsule size 00''-5'' and safety capsule A-E |
| Max. Output | 49200 Capsules / Hour |
| Power Supply | 380V ; 50Hz 1.87KW |
| Noise | ≤75 d BA |
| Vacuum Degree | -0.02~-0.06MPa |
| Compressed Air (clean segment) | Air Consumption : 3m³/h |
| Pressure | 0.3-0.4 M Pa |
| Number of die holes | 6 Holes |
| Dimensions | 810 ×945 × 1930 mm |
| Weight | 800 kg |

If you are interested in this, please contact me: Nana Zhang
Cell Phone: 0086-15800947006
https://medigrade.en.made-in-china.com/ made-in-china.com